Fal•con
3.
a. Any of various birds of prey of the family Falconidae and especially of the genus Falco, having a short, curved beak and long, pointed,
powerful wings adapted for swift flight.
b. Any of several birds of these or related species, such as hawks, trained to hunt small game.
c. A female bird of this type used in falconry.
2. A small cannon in use from the 15th to the 17th century.
1. A heavy rock band rooted in the early 1970s tradition featuring Perry Grayson from Destiny's End and Artisan (guitar &
vocals), Greg Lindstrom from Cirith Ungol (bass/keyboard) and Darin McCloskey from Pale Divine (drums).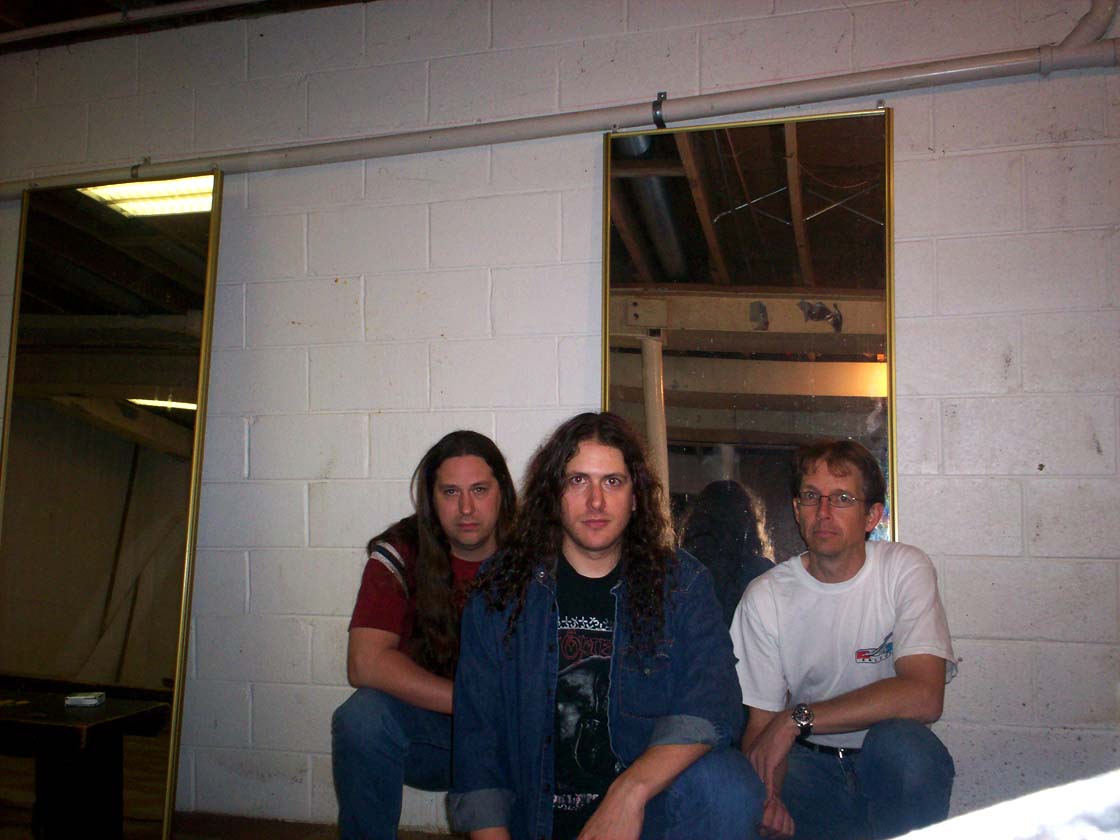 2008 - The Year of Die Wontcha:
The power trio known simply as FALCON is back to rock the scene again with Die Wontcha, the follow-up to their successful self-titled debut. The raw, heavy and loud ingredients that made the eponymous 2004 FALCON album such a critical success are in abundance on Die Wontcha. Armed with vintage axes and massive amplification, PERRY GRAYSON (guitar/vocals), GREG LINDSTROM (bass/keys) and Darin McCloskey (drums) returned to the Polar Bear Lair in Middletown, Maryland to kick out the jams with engineer Chris Kozlowski (Blue Cheer, Pentagram, Internal Void, Penance, The Obsessed, The Melvins, etc.) behind the board.

Much like the spontaneous late Sixties and Seventies heavy rock platters of yesteryear FALCON committed Die Wontcha to tape over a span of 5 days in October 2006. Guitarist/vocalist Perry Grayson is ecstatic about the recording of Die Wontcha. "We only had three nights to rehearse in Pennsylvania before hitting the Polar Bear Lair to record. Greg and Darin busted their asses just as much as I did. The Die Wontcha sessions far exceeded my expectations, and I really have to thank Greg and Darin for a job well done! Chris Kozlowski surpassed himself in preserving the loud, raw edge of FALCON. I even played keyboard for the very first time on a recording! The whole experience was just killer. From the actual performances on the songs to hanging out with Chris Kozlowski and the guys from Blue Cheer and Internal Void and seeing Cactus simply destroy live in Virginia. Darin, Greg and Chris did their part to make sure Die Wontcha got knocked out before my move to Sydney, Australia, and that's the best going-away present anyone could have given me." Yes, you read that right. Though Perry Grayson relocated to Australia in December 2006, FALCON is still alive and will continue recording and gigging whenever humanly possible.

For those taking notes, the album title was conceived by Greg Lindstrom as a nod to West, Bruce & Laing's 1974 LP. The cover of Die Wontcha features a full-color painting by renowned fantasy artist Virgil Finlay, an ominous illustration befitting the doomy side of FALCON.

Thunderous live performances and rave reviews and features in major mags worldwide including Vintage Guitar, Metal Maniacs, Terrorizer and Greek Hammer elevated Falcon's soulfully hard rocking reputation. Die Wontcha is a massive slab that cements Falcon's place at the forefront of the real rock revival!

http://www.falconband.net
http://www.myspace.com/falconband
Email: info AT falconband DOT net
2002 - 2006:
Guitarist PERRY GRAYSON (ex-DESTINYS END, ex-ARTISAN, ISEN TORR) envisioned a '70s style heavy rock project for years, and he finally found the time to start work on it in 2002. The band is called Falcon, and the sound is a total throwback to what was heavy in 1971. "I've been talkin' about this for years, even before I left Destiny's End," says Perry. "I'm a huge fan of bands like Pentagram, Buffalo (Australia), Trapeze, Dust, Captain Beyond, Budgie, Bang, Thin Lizzy, Mountain, BOC, etc.—and I've had these song ideas floating around my head for a very long time. It's a breath of fresh air to be able to slow down and play stuff that isn't goin' a million miles an hour." Joining Perry in Falcon is former CIRITH UNGOL multi-instrumentalist GREG LINDSTROM. Lindstrom handles the bass thunder in FALCON, and also plays some keyboard and guitar. DARIN McCLOSKEY from Pennsylvania doom metal merchants PALE DIVINE pounded the drums for FALCON on their self-titled album, while ANDREW SAMPLE played drums for FALCON live in Southern California from 2004-2006.
"Falcon is part of the power trio tradition—like Cream, Trapeze, Budgie, Dust, Bang and Rush," Perry Grayson explains. "I had to keep things down-to-earth and involve only as many people as necessary. Greg Lindstrom is a real pleasure to jam with. He's one of my biggest music heroes, and I couldn't have asked for a better person to help make Falcon a reality. It goes without saying that I love Darin's work with PALE DIVINE, and he was the obvious choice, despite the huge distance between us. Along with my original FALCON tunes, we're doing some of Greg's old CIRITH UNGOL songs that never got a proper studio recording. Greg's tracks deserve to be heard!" Perry explains.

The members of Falcon are no strangers to the stage or the studio. Greg Lindstrom was a founding member of CIRITH UNGOL, which formed circa 1972. Lindstrom was last heard bashing out guitar, bass and keyboards on the classic CIRITH UNGOL album FROST AND FIRE in 1981. Greg also appears on the Cirith Ungol double disc rarity collection SERVANTS OF CHAOS ('01). Perry Grayson grinded his metal axe and was an integral part of the songwriting team in Destiny's End for both of their Metal Blade Records releases, BREATHE DEEP THE DARK ('98) and TRANSITION ('01). Grayson's tenure in Destiny's End included a full-scale U.S. tour with Iced Earth and Nevermore, an appearance at the prestigious Wacken Open Air Festival in Germany in '99 and a European tour with Metal Blade labelmates Sacred Steel and Wardog. Most recently Perry has been involved with multi-national metal band ISEN TORR, whose EP Mighty & Superior was released on Metal Supremacy Records in Germany in '04. With Pale Divine, McCloskey has recorded the Crimson Tears EP, Thunder Perfect Mind, Eternity Revealed and Cemetery Earth.

"I'm really happy that Perry pulled me out of musical retirement, 'cause I'm having a blast playing with these guys," Greg Lindstrom enthuses. "When Perry told me about his idea for Falcon and asked me if I'd be interested I immediately jumped at it," notes drummer Darin. "I knew that a project involving Perry and Greg was going to be very special! I think there's a kindred spirit among the three of us with regard to this style of music and I'm very excited to be working with them!"
"I started off by demoing a couple of tracks with a drum machine, doing all the vocals myself," Perry continues. "It was the first time I'd ever tackled proper lead vocals, but I've really been working towards improving as a singer. It's been a long journey since I bailed from Destiny's End, but it was well worth it. In Falcon I'm playing the kind of heavy ass rock that made me pick up a guitar in the first place. This is stuff I can really put my heart into and stand behind. No frills, no cookie monster growling, no bullshit. My guitar tone for Falcon is very earthy—and loud—not overfuzzed.

In late March '03 Darin flew out to Los Angeles for a weekend of Falcon jamming. After two 3 hour sessions, Falcon laid down the basic tracks for their four song demo live in the span of an hour the day Darin was to return to Pennsylvania. If there's one thing about Falcon, it's that the band thrives on being spontaneous and flying by the seat of their pants! Vocal, lead guitar and keyboard overdubs were finished over the next couple of weeks. By May '03 the Falcon demo was making the rounds in the underground, receiving lots of positive reviews from zines both pro and fan—like Metal Hammer (Greece), Reflections of Doom (Belgium) and Metal Maniacs (USA). A fan and press favorite from the get-go was Greg's Tolkien inspired tune "Shelob's Lair," which was a Cirith Ungol mainstay in 1976.
With the demo done, Falcon began planning their debut album recording. It was clear that Falcon needed an engineer/co-producer who is capable of obtaining the killer vintage tones the band was shooting for. So, the trio decided to go with Chris Kozlowski (Polar Bear Lair Studios), who mixed Pale Divine's first album, Thunder Perfect Mind—in addition to recordings for The Obsessed, Spirit Caravan, Penance and Pentagram. The self-titled Falcon album was recorded in November '03. Falcon banged this one out the way folks used to in 1971—in a mere 5 days, followed by another 3 of mixing in late February '04.
Perry tackled vocals on all the tunes for the album, although the guys weren't totally satisfied with how "On the Slab" turned out, so the possibility of having BOBBY LIEBLING from PENTAGRAM sing that tune was brought up by engineer Chris Kozlowski. Bobby gladly accepted to belt out "On the Slab," a tribute to rock idol Phil Lynott of Thin Lizzy. The album was released to rave reviews in August 2004, and in '05 the band was invited to play the Doom Shall Rise festival in Germany.
FALCON played many Southern California gigs following the release of the self-titled FALCON CD, sharing the stage with the likes of Fireball Ministry, Earth Ride, Slough Feg, Butcher, Shakey Mallard and others. Andrew Sample relocated to Kansas in early 2006, and FALCON played their first show with Darin McCloskey on the drum throne in April '06. Plans were cemented at that time to enter the studio in the fall to record the follow-up to the eponymous FALCON disc, DIE WONTCHA.
http://www.falconband.net
http://www.myspace.com/falconband
Email: info AT falconband DOT net